Setting up a cash book feed for a NAB cash account
To enable a transaction feed from a NAB bank account into a Praemium cash book, you must first submit a completed Authority to disclose information form. You can download this form here and email it to support@praemium.com.au or send by post to:
Praemium Limited
PO Box 322
Collins Street West
MELBOURNE VIC 8007
Once this is complete, you will need to set up the link between your bank account and your Praemium portfolio.
To do this:
Login to your portfolio administration and reporting platform.
Under the Maintenance > Portfolio Management menu, click Portfolio Bank Links.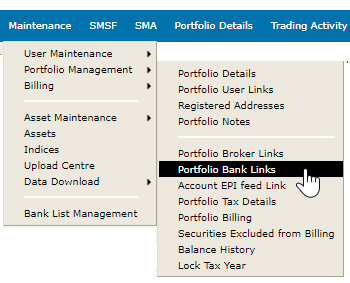 Click Add Bank Link Details.

Fill in the appropriate details making sure that the BSB and Bank Account Number accurately identify your NAB account.

Select the cashbook you want the transactions to go to.
Click Save.
Once this is done and the bank account is set up, there is nothing else you need to do. Just wait for the feed to come in and the chosen cashbook will be updated.
More information
Contact our Client Services team on 1800 571 881 or email our team at
support@praemium.com.au
if you would like to more information.