Your guide to Investor Portal
Investor Portal offers you a window to your portfolio.
Up-to-date: Investor Portal provides an aggregated view of your wealth; information at your fingertips.
Mobile: Investor Portal is fast and works on almost any device, to go wherever you go.
Engaging: Investor Portal has simple, interactive screens that present compelling, graphical visualisations.
To see what it can do, we recommend you take the tour...
Frequently Asked Questions
Which of my accounts are shown in Investor Portal?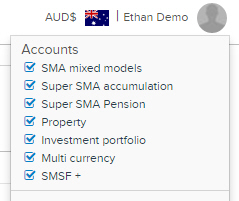 You can choose which of your accounts to display from the Accounts menu available by clicking your user name in the top right corner of the window.
Where does the information come from?
The information displayed for your accounts is maintained by your financial adviser in their portfolio administration system. To complete your investment picture, you can add any investments that are not managed by your adviser using the Something missing? link.
How up to date is the information in Investor Portal?
Investor Portal information, such as the share prices used to calculate your portfolio valuation, is updated twice a day. You can check when the information was last updated by referring to the Status page available by clicking your user name in the top right corner of the window.
More information

This handy guide has instructions on how you can:

log in to Investor Portal
view more than one account
view valuations, assets and performance
see your Adviser's contact details.

It also provides the answers to the most common questions asked about this product.